Honeymoon in Goa, India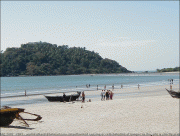 This former Portuguese colony lies mid-way down the west coast of India. Visitors are drawn to Goa?s lush hills and cool blue waters, cathedrals and coconut groves, spice plantations and paddy fields, sun, sand and sea, for its joie de vivre and its warm and friendly people.
Goan cuisine is the end result of the blending of local Konkani and Portuguese food styles. This culinary amalgamation and adaptation has created fiery, coconut based curries and stews using pork (unusual in India) and beef and rich cakes and pastries, as well as an interesting range of port and red and white wines.